/
/
The conversation takes Gary from cleaning his pool, to the disappearance of mobile phones, by way of Immersive Reality
Podcast Show Notes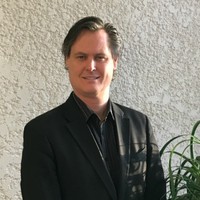 On the back of his recent webinar looking at the company's "Next-level" of IoT. Incorporating AI and Mixed Reality into the world of IoT 4.0. Recently developed a proto-type HoloLens application for the Research Lab for the USAF (AFRL). We talked over the changing landscape as Digital Transformation and iterative thinking comes to the manufacturing industry.
Gary Ramsey award-winning, forward-thinking, B2B enterprise sales/marketing entrepreneur and business leader with 12 years of experience in IoT/M2M. Professional that thrives on solving business problems with innovative end-to-end solutions experienced at executing aggressive global go-to-market strategies; a visionary leader and team player with a multitude of trusted advisor C-level relationships that utilizes a high-ROI/value solution sales style to consistently meet/exceed shareholder value.
Learn from the Cliff Notes on Digital Transformation
Was previously at "DEC" (Digital Equipment Corporation now HP), Sun Microsystems (now Oracle) and Intel.
Now working at AVNET, a one stop shop
Q: Define digital transformation?
It is not IT centered it is the whole business
IT was previously considered an overhead now it is throughout the business not a department
A whole biz mindset, having taken the startup mentality to approach business mentality, to adopt change, that people,customers, data expose to you
Management has to change, learning from mistakes and course correcting
Starts from management, grown into the startup mentality
Have to be able to adopt change - of mindset, and let data and customer feedback
It is same process in the org, like packages, or order routing, it's a people process
To move faster we need to move the direction we think but adapt to changes in feedback
Key is listening
Q: Where are you seeing innovation?
Rebranding from Virtual, Augmented & Mixed Reality - to "XR" technologies, extended reality for facial tech
Q: Use of networks for data
ATT ceo, says cell phone going away!
Apple agree.
No longer carry phone
LTR or WiFi? but WiFi was never designed for movement.
5g makes lte easier and cheaper
What if was price of safety goggles - factory of future goggles?
What happened in an asset tracking a project for last 6 years
edge computing is future for use
Looking for heat, or vibration for predictive maintenance
At AVNET look diff, they use workshops internally
Resulted in 8 ideas in Gartner magic quad
I do a lot of thinking while maintaining the pool
Q: What is the future and how we get there?
We need to iterate
CES introduced tesla and flying cars
This episode of Cliff Notes Podcast: Lead manufacturing, host and founder of Holdingbay Tristan Bailey talks to Gary Kent Ramsey for the Cliff Notes podcast. Gary is a business leader with 12 years experience of IoT and Digital Transformation.
He shared some of his visions of the near future in management and manufacturing. As business gets more complex and looking for an edge, he suggests management look to smaller startup mentality of learning form and adapting to change. Collect all your sources from customers feedback, machine reports and staff knowledge to build an evolving picture and trust in data driven.
Then we moved in to talk about IoT and where some times the systems can be an ecosystem in themselves, so start at the edge and look what is possible now, rather than tooling up monitoring that has the hope of emerging a solution.
The conversation takes Gary from cleaning his pool, to the disappearance of mobile phones, by way of Immersive Reality.
Resources
#digitaltransformation #iot #mfg
Do you know someone who would make a good guest?

Send me your recommendation, recording is on a 4-6 weeks schedule so can book around their schedule.