/
/
Proud UK manufacturer & supplier of workwear, on re-branding and growth.
Podcast Show Notes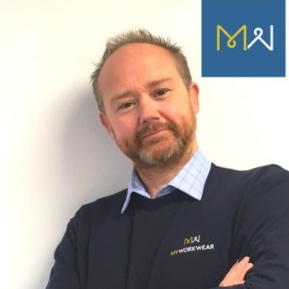 Take 25minutes to join James Worthington, MD of MyWorkwear on this podcast. Championing UK Manufacturing & Engineering expanding capacity. Helping businesses take pride in their branded workwear & uniforms (including a new look for themselves in 2020).
As a passionate supporter of the UK's Manufacturing & Engineering sector, strongly believe that together, we can share the very best in news, views & everything positive about the industry. With this in mind, He is an active member of FactoryNow, MAKE UK, Made In The Midlands, Training Manufacturing Group & UKMfgUnite.
Through my business, James support a number of STEM initiatives including Formula 1 in Schools For Shropshire and a proud sponsors of the University Of Wolverhampton race team.
Learn from the Cliff Notes on Workwear
Shut for three and half weeks, but things have turned out positive for orders, with local shops closed when we reopened
We saw an increase in inquires and drop ship medical supplies to our customers.
Then what normally 5% in small orders started to grow, as small businesses were ordering from home
Almost doubled the work force to cope with demand
A really big job to do the re-brand, a and get fantastic feedback from all our customers
Some businesses when the economy hits a recession will cut back on marketing expense and I think that is wrong
We have taking the opportunity to invest in the new logo and drop the little man
Invested in more capacity, by about 38%
Mainly embroidery also some vinyl prints and heat transfers
We are going to put Europe expansion on the back burner with Brexit situation this year
We run JIT, we are seeing a slowdown when factories that supply us are having to close and then reopen
On track for 35% year growth for now and do great in the UK
Can not wait to get out to shows, as people buy from people
SUPER POWER: Change the outlook of the general press to be more upbeat about UK Manufacturing, as I see so many success stories.
MyWorkwear support manufacturing growth in large and small companies during pandemic. James Worthington even invested time to re-brand while doubling staff for the rush on PPE and branded work clothing. Based in Telford, serving the whole of the United Kingdom.
Resources
#workwear #ppe #pandemic #tools
Do you know someone who would make a good guest?

Send me your recommendation, recording is on a 4-6 weeks schedule so can book around their schedule.